About Department
The growth of a country and the well being of its people is measured by the power consumption. Hence it is the prime responsibility on an Electrical engineer to cater to the needs of the power requirements of a nation, by planning the power generation plant and distribution to every customer whether it is a full-fledged industry or for domestic purpose.
An Electrical engineer analyses the demand for electrical energy requirement and devices the most efficient means to meet it benefiting both society and depleting minimum of scare natural resources.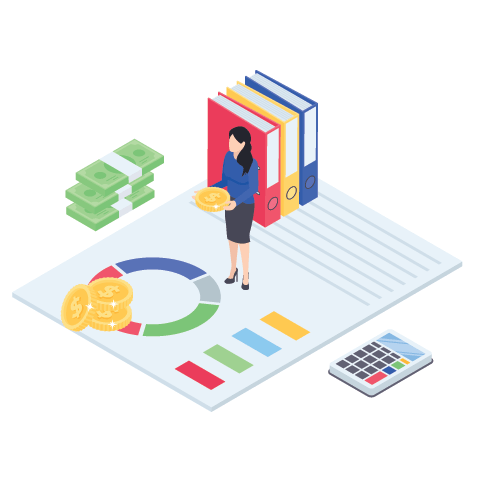 Vision & Mission
VISION
To convert rural student community into very strong technocrats who can meet with the changing societal needs at global level.
MISSION
To kindle the interest towards engineering in the young minds through effective teaching techniques.
To provide good industrial exposure through appropriate forums to enhance technical and creative skills required for societal development.
To develop professional proficiency and technical expertise as an entrepreneur and to exhibit leadership quality required for meeting with the industry goals for long-run.
To organize collaborative and multi-disciplinary activities periodically through interaction with all the stakeholders.
To inculcate the ethical value and positive mind-set for fulfilling the demands of society through mentoring and motivating.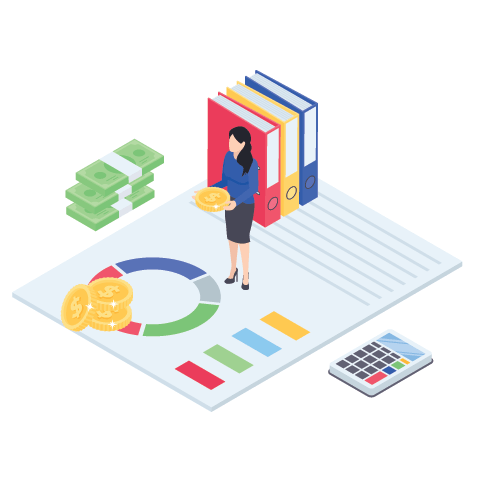 Program Educational Objectives (PEOs)
Diploma Engineers of the department of Electrical and Electronics Engineering will be able to,
Apply broad-knowledge and talents to yield solution to Electrical Engineering problems in industry and allied disciplines.
Exhibit proficiency in technical skills and rational thinking required for providing optimal solution to dynamic societal needs and also for professional upliftment.
Work as a team with a sense of ethics and professionalism and communicate effectively to manage cross-cultural and multi-disciplinary teams.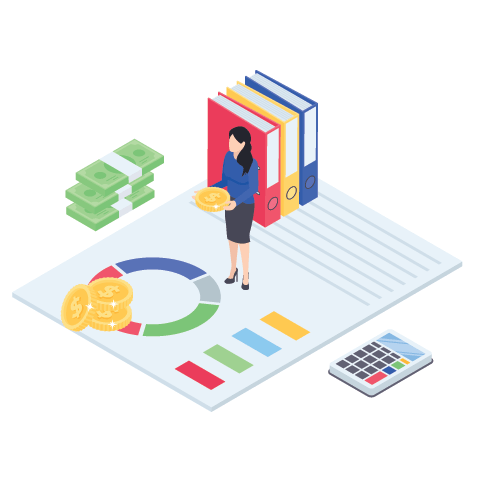 Program Outcomes (POs)
1. Basic and Discipline specific knowledge: Apply knowledge of basic mathematics, science and engineering fundamentals and engineering specialization to solve the engineering problems.
2. Problem analysis: Identify and analyse well-defined engineering problems using codified standard methods.
3. Design/ development of solutions: Design solutions for well-defined technical problems and assist with the design of systems components or processes to meet specified needs.
4. Engineering Tools, Experimentation and Testing: Apply modern engineering tools and appropriate technique to conduct standard tests and measurements.
5. Engineering practices for society, sustainability and environment: Apply appropriate technology in context of society, sustainability, environment and ethical practices.
6. Project Management: Use engineering management principles individually, as a team member or a leader to manage projects and effectively communicate about well-defined engineering activities.
7. Life-long learning: Ability to analyse individual needs and engage in updating in the context of technological changes.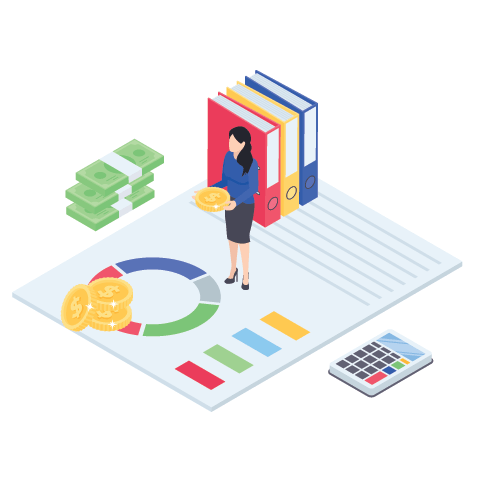 Program Specific Outcome (PSO)
After successful completion of the program, students will be able to,
Analyze the performance of various Electrical power apparatus and implement latest technological developments in the field of control and automation.
Apply cutting edge technology to troubleshoot Electrical equipments.
Develop managerial skills to establish Startup in the field of Electrical Engineering.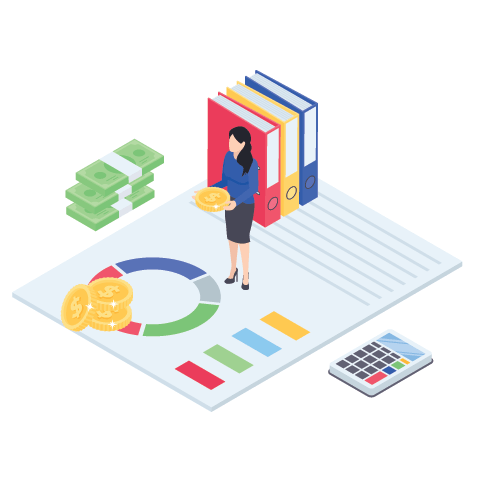 HOD
Mr.Sivaaadidyan S, B.E., M.E.,MISTE ,
Head of Department
As a teacher's son, I am very proud to say that I have the sprit to create the students as well being Engineers with social responsibility, and I have exceptional ability to establish, cooperative, professional relationships with parents,staffand administration.
I am flexible, reliable and possess time keeping skills and hardworking person. I am mature team worker and adaptive to challenging situations.
As a HOD/EEE, I am very proud to say that I am having an excellent staff team in our department for providing good results in board examinations. Motivate the students to participate in Extracurricular and Co curricular activities. We categorize the students as their wish whether they are interested to continue higher studies or getting placement or become an Entrepreneur and encourage them to succeed their wish. We give the necessary training to develop their skills to achieve their goals.
As a Entrepreneurship cell convener, We got the amount of Rs 800000 from AICTE, and motivate the students to become an Entrepreneur. I went to Tamilnad Polytechnic college at Madurai for diploma course.
I went to Alagappa chettiyar College of Engineering & Technology at Karaikudi for UG. I went to SRM University at Chennai for PG.

Mr. SIVAAADIDYAN S
Unique ID : 1-459111023, Email ID : hod.eee@sdpc.ac.in.
Faculty Members
| Name | Designation |
| --- | --- |
| Mrs.Poonkuzhali S, B.E.,M.Tech.,MISTE. | Lecturer(Senior Scale/EEE |
| Mrs.Deepa Devi P, B.E.,M.I.S.T.E. | Lecturer(Senior Scale)/EEE |
| Mrs.Vasumathi M.A, B.E.,M.I.S.T.E., | Lecturer(Senior Scale)/EEE |
| Mrs.Kalpana G.N, B.E. | Lecturer/EEE |
| Mr.Prabhu R, B.E. | Lecturer/EEE |
| Mr.KarthikRaman B, B.Tech. | Lecturer/EEE |
| Mrs.Jamuna S, B.E., | Lecturer/EEE |
| Mr.Prabhu G , B.E. | Lecturer/EEE |
| Mr.Antony Robert A, M.E. | Lecturer/EEE |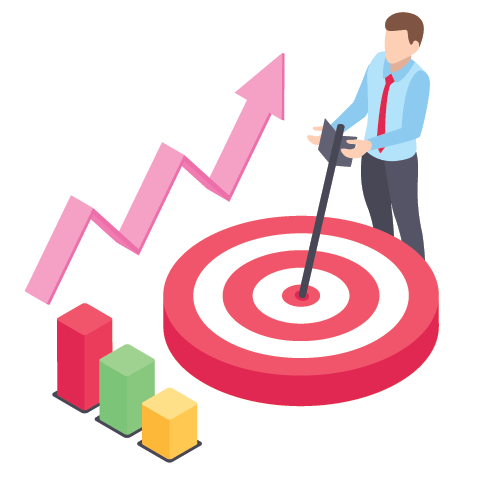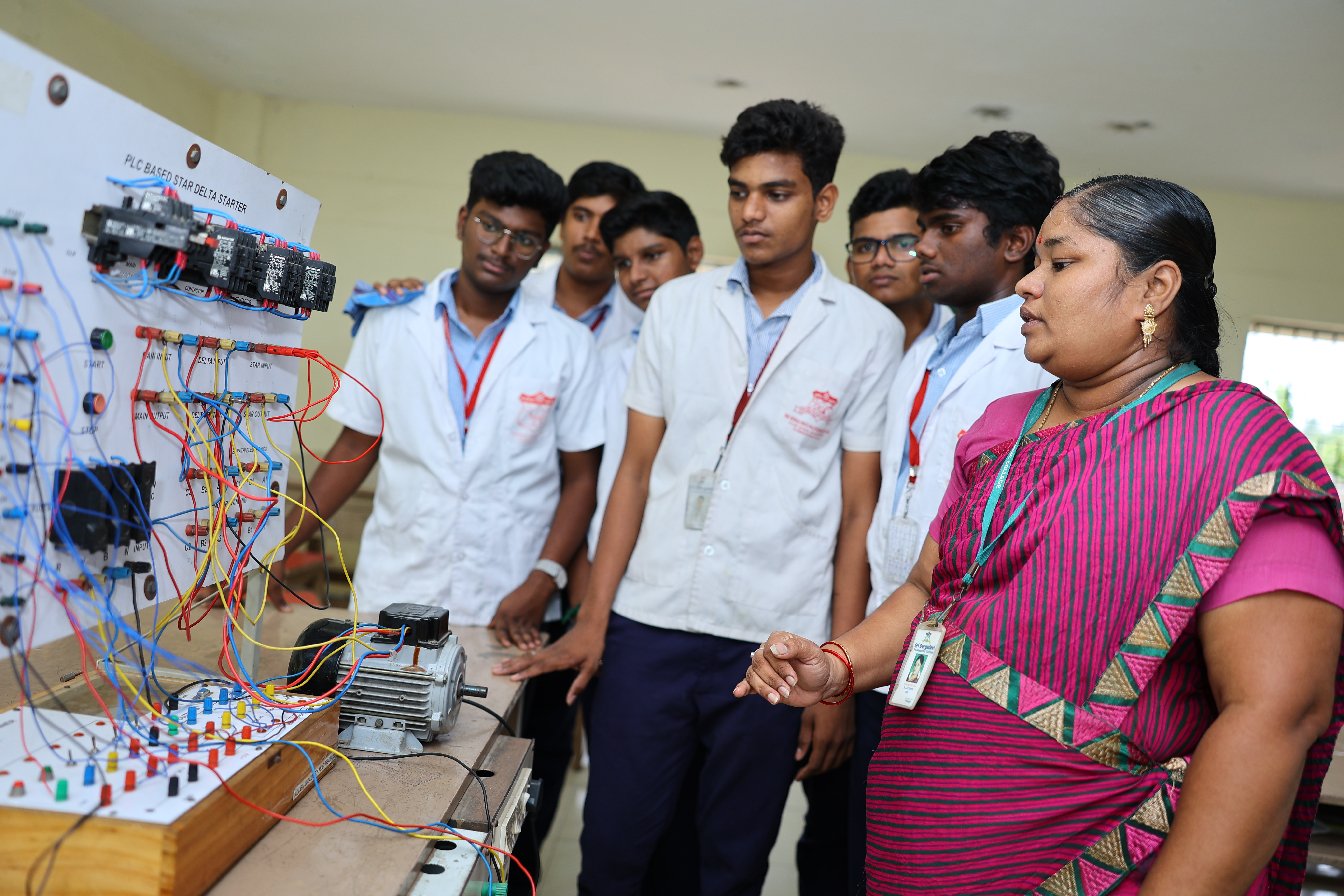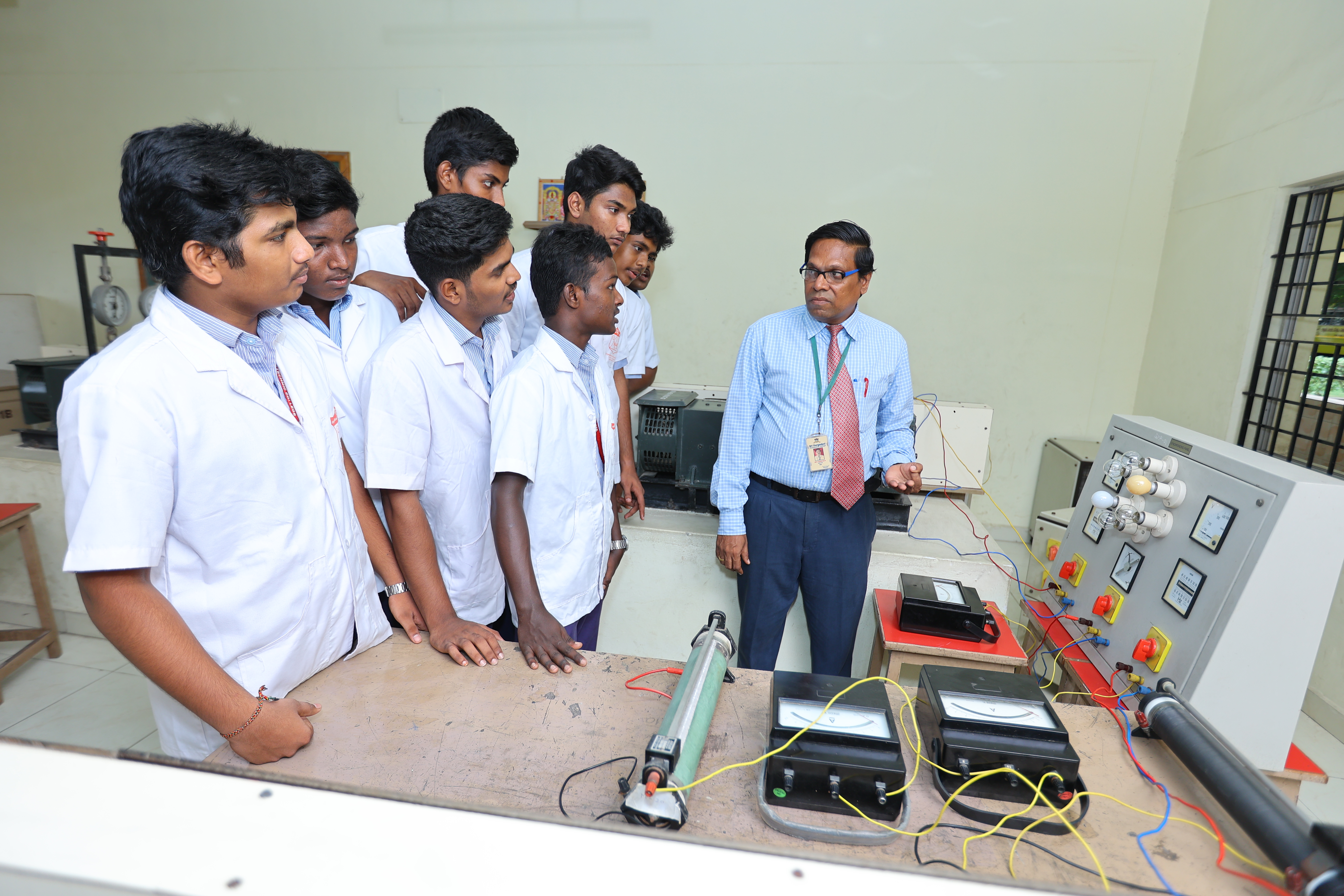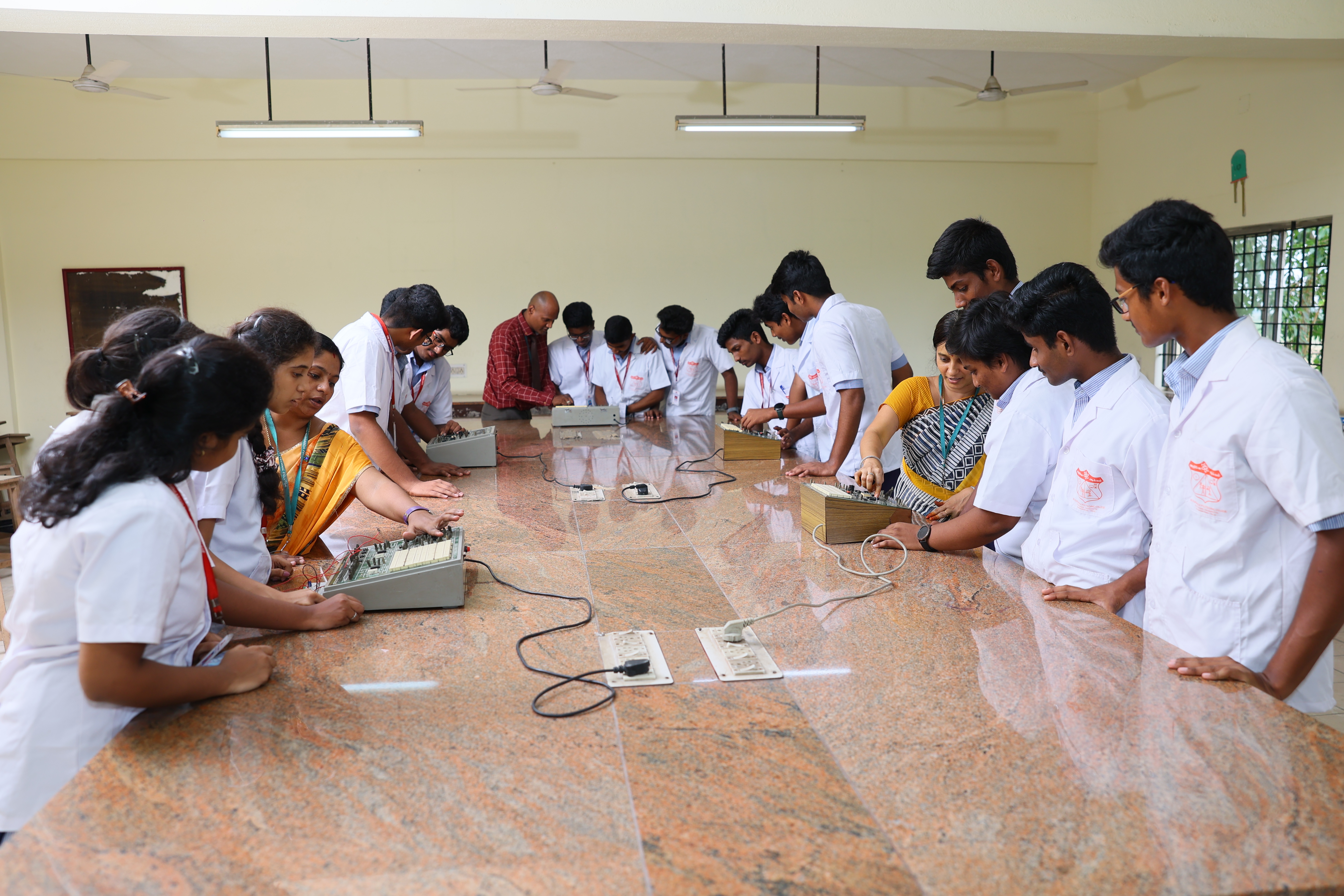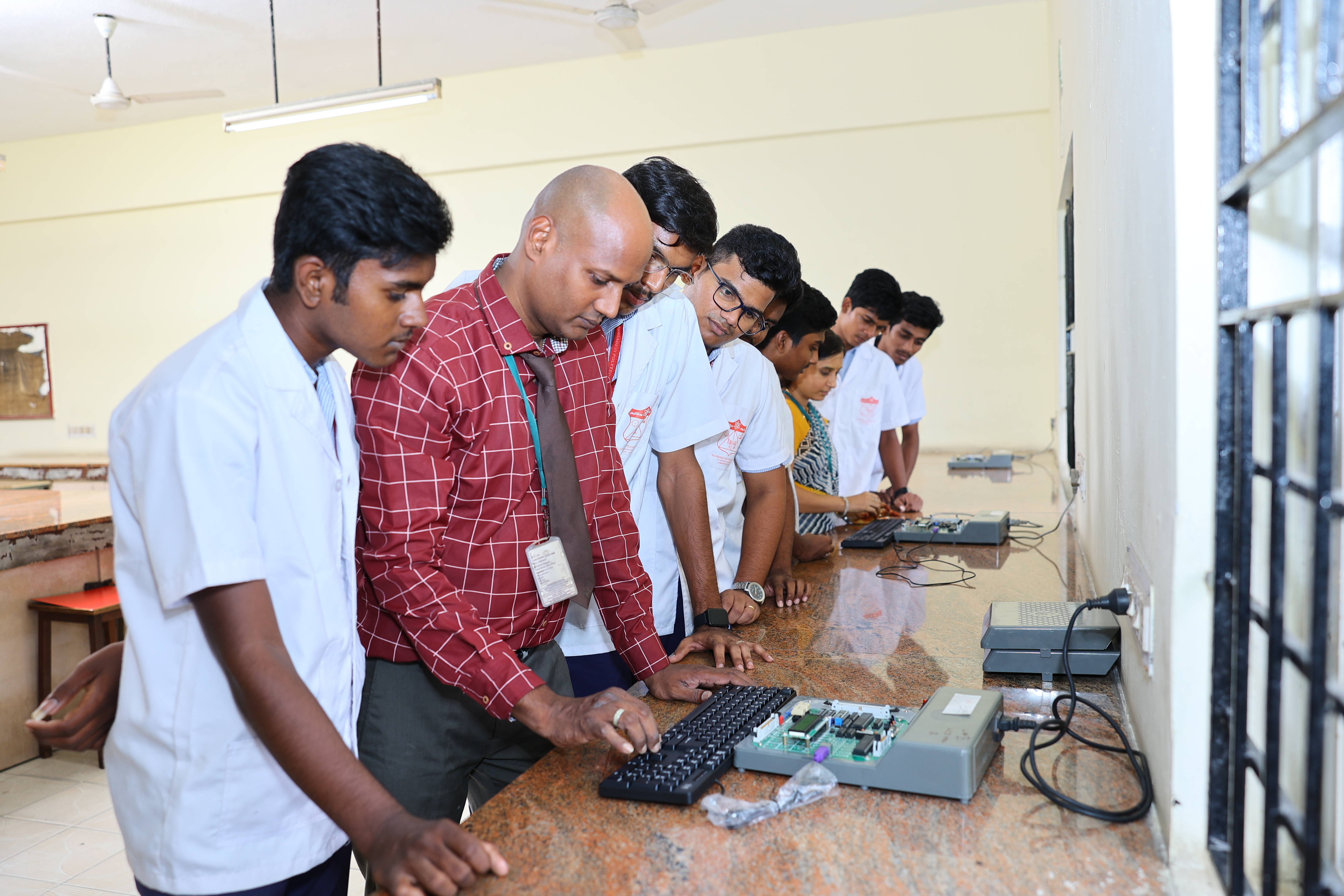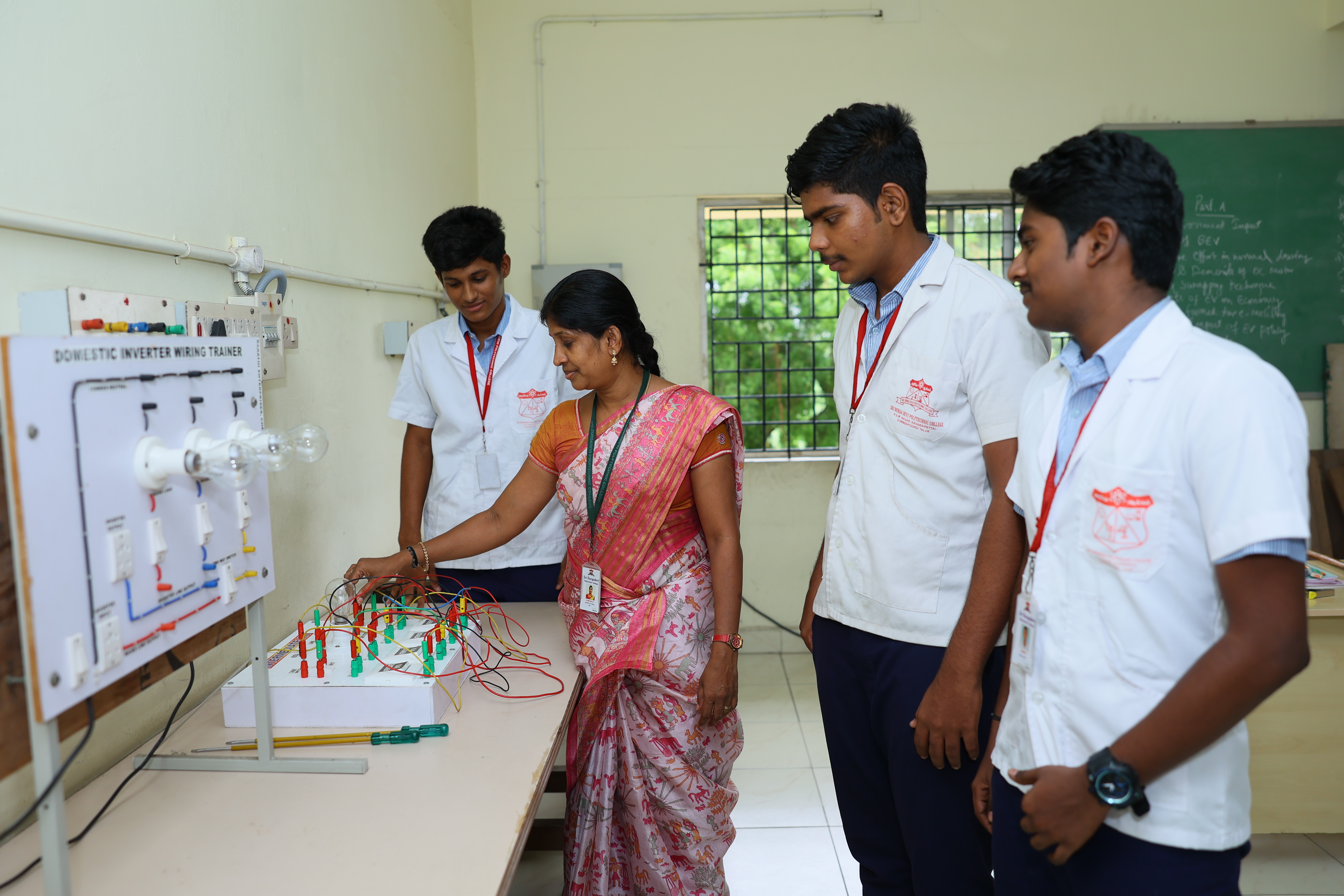 Distinguished Alumni
| S.No. | Name | Company | Year of Visit |
| --- | --- | --- | --- |
| 1. | Mr. Sathish Kumar A M, | Wipro Pvt.Ltd, | 2007 |
| 2. | Mr. Hariprasath S, | Lucas Tvs,Padi | 2007 |
| 3. | Mr. Shanmugam I, | Acl Jointed Ashok Leyland, | 2008 |
| 4. | Mrs.E.M.Preethi, | TNEB(JE),Guindy, Chennai-32, | 2008 |
| 5. | Mr.Al Ameen M, | Ford Ltd.,Chennai, | 2009 |
| 6. | Mr.Nagarajan C, | Hundai Ltd.Sriperumbatur, | 2009 |
| 7. | Mr.Tamilselvan V, | CPCL,Manali, | 2010 |
| 8. | Mr.Senthilkumar K,AE, | TCP Power Plant, | 2010 |
| 9. | Mr. G. Dilli babu, | Blue Star, Chennai, | 2011 |
| 10. | Mr. S.Manigandan | IBM, | 2012 |
| 11. | Mr.S.Tamizhamutnan, Mr.K.Srinivasan, | Michelin Tyres, | 2012 |
| 12. | Mr. K. Rajesh, | M/s C.S.C Pvt. Ltd., | 2013 |
| 13. | Mr.H.Gokul, | Yamaha motors pvt Ltd., | 2014 |
| 14. | Mr.G.Monish, | Trinoy Networks, Saudi Arabia, | 2015 |
| 15. | Mr.Ravinthiran, | M/S Godrej and Boyce MGPVT LTD, | 2016 |
| 16. | Logesh.S, | M/S Alstom PVT LTD, | 2017 |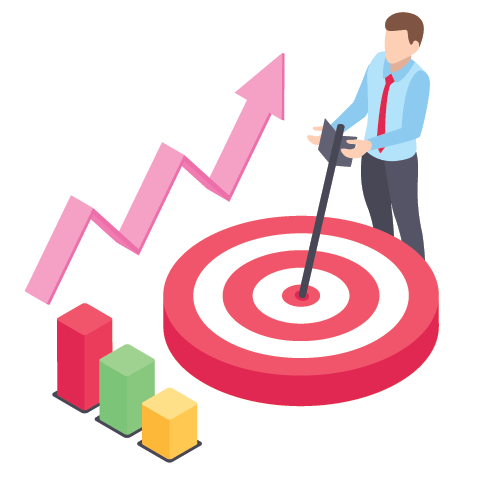 Seminars & Workshops
2021-2022
| S.NO | Date | Participants | Particulars |
| --- | --- | --- | --- |
| 1 | 09.12.2021 | Final year students | Career Guidance Programme Mr. Suresh Kumar. M., Assistant Director Board of Apprenticeship Training (Souther Region) |
| 2 | 20.01.2022-22.01.2022 24.01.2022 & 25.01.2022 27.01.2022-29.02.2022 | Final year students | Placement Training M/s. Mahindra Pride Classroom |
| 3 | 26.03.2022 | Final year students | Entrepreneurship and Innovation Awareness Programme HC & FC, EDII-IEDP HUB Central Polytechnic College |
2020-2021
| S.NO | Date | Participants | Particulars |
| --- | --- | --- | --- |
| 1 | 21.09.2020-28.09.2020 | Final year students in Mechanical Engg. and EEE | Employability Skills Online Training Programme M/s. Mahindra Pride Classroom |
| 2 | 07.10.2020-14.10.2020 | Final year students in Mechanical Engg. and EEE | Online Training on General Aptitude and Logical Reasoning M/s. Mahindra Pride Classroom |
2019-2020
| S.NO | Date | Participants | Particulars |
| --- | --- | --- | --- |
| 1 | 22.11.2019 to 30.11.2019 | Final year students in Mechanical Engg. And EEE | Placement Training M/s. Mahindra Pride Classroom of M/s. Naandi Foundation |
| 2 | 14.02.2020 | Final year students in Mechanical Engg. And EEE | Personality Grooming Workshop M/s. RIPE and Gillette Guard |
2018-2019
| S.NO | Date | Participants | Particulars |
| --- | --- | --- | --- |
| 1 | 01.08.2018 | Final year students in Mechanical Engg. And EEE | Awareness Programme on CADD M/s. CADD School |
| 2 | 14.11.2018 to 17.11.2018 20.11.2018 23.11.2018 24.11.2018 | Final year students in Mechanical Engg. And EEE | Placement Training M/s. Mahindra Pride School of M/s. Naandi Foundation |
2017-2018
| S.NO | Date | Participants | Particulars |
| --- | --- | --- | --- |
| 1 | 26.05.2017 & 27.05.2016 | Faculty Members | Yoga and meditation Training by |
| 2 | 06.06.2017 | Final Year Students in MECH and EEE | RIPE LAURUS Barclays Employee Engagement Visit at M/s. Barclays Bank, DLF, Ramapuram, Chennai-600089 |
| 3 | 21.06.2017 | Second Year MECH and EEE and Final year EEE | Awareness Programme on CADD M/s. CADD School, Chennai-600050 |
| 4 | 06.11.2017-10.11.2017 & 15.11.2017-17.11.2017 | Final year students in MECH, EEE & ECE | Placement Training Programme M/s. Mahindra Pride School (Naandi Foundation) |
| 5 | 14.02.2018 | Final year students in MECH, EEE & ECE | Placement Orientation Programme M/s. Mahindra Pride School (Naandi Foundation) |